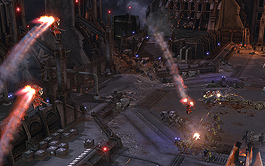 I just noticed that there is now an official website for Warhammer 40,000: Dawn Of War II, the follow-up to the stonking original. Check out the video teaser (warning: be prepared to pee a little). But I was struck by the title of the press release announcing the game (excerpt follows):
THQ AND RELIC ENTERTAINMENT SET TO WAGE WAR OF EPIC SCALE IN WARHAMMER ® 40,000™: DAWN OF WAR ® II

AGOURA HILLS, Calif. April 3, 2008 — THQ Inc. (NASDAQ: THQI) today announced that Warhammer® 40,000®: Dawn of War® II, the highly anticipated sequel from one of the industry's premiere Real-Time Strategy (RTS) developers, Relic Entertainment, is scheduled to bring the 41st Millennium's savage warfare to life like never before in spring 2009. Powered by an enhanced version of Relic's proprietary Essence Engine 2.0®, Warhammer 40,000: Dawn of War II will take players to the brutal frontlines of war where they'll experience intense action and visceral combat through a non-linear single player experience and a fully co-operative multiplayer campaign. Set in Games Workshop's (LSE: GAW) highly popular Warhammer 40,000 science fiction universe, Warhammer 40,000: Dawn of War II is being developed exclusively for Windows PC.
Epic scale? Epic scale? We saw a downed Titan in the Winter Assault expansion, but I'd now give you very good odds on a fully functioning Warhound or Reaver in DoW2. And check out those screenshots! I can't wait.