As promised, here's the doomstrike missile battery which is the secondary weapons loadout for the Warmonger titan: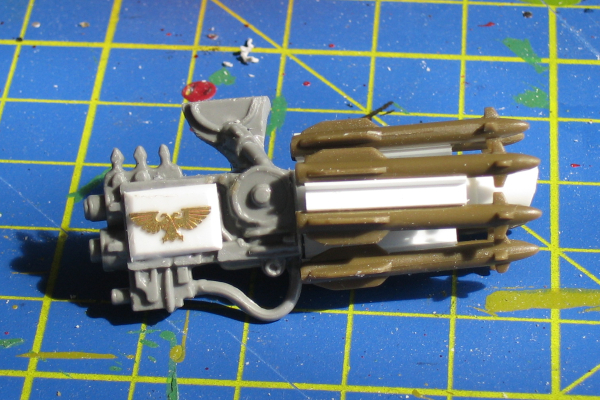 The missiles came from a model kit of an AH-64D Apache Longbow helicopter, which carries eight AGM-114 Hellfire missiles. The missiles in the kit were just about the right size for the Warmonger titan.
I attached two missiles to the top and bottom of a small piece of styrene I-bar, and then used another piece to attach them to a piece of tubing: my intention is for this to become the barrel of an additional weapon: one that can't be used if you use one or more of the missiles in the same turn. The end of the tube is slightly mitred to make it look like the muzzle of a cannon.</p
I then mounted the entire assembly onto the breech of the Hellstorm cannon (once again, the razor saw made short work of would have been a difficult job — removing the barrel of the Hellstorm). A small rectangle of plasticard and an etched brass imperial finished off the job.
This week I decided to just order the Hydra turrets that I will use for the AA guns on the towers: once they arrive, I will only have the landing pad and the radar dish to build before I can start making the final preparations for painting! There is still a lot of filing and putty work to do to fill the gaps left by the previous owner, but once that's done, I can give the thing an undercoat.
More updates next week, hopefully!